These youth sports organizations are affiliated with the Big Foot Recreation District and BFRD assists these organizations as are able. Ultimately these organizations operate independently from BFRD.
Payments must be made to the respective club. Checks made to BFRD will not be accepted.
Big Foot Little Chiefs
PO Box 99
Walworth, WI 53184

Girl's Contacts
:
Mike Dowden
Phone: (262) 325-4533

Boy's Contact
:
Hunter Price
Phone: (262) 275-2116
Forms:

2018 - 2019 Schedules - please check back

4th Grade:

Boys A / B
Girls

5th Grade:

Boys
Girls

6th Grade:

Boys
Girls

7th Grade:

Boys
Girls

8th Grade:

Boys
Girls
NEWS
Congratulations
2019 5th Grade Jr Warhawks Tournament Champions!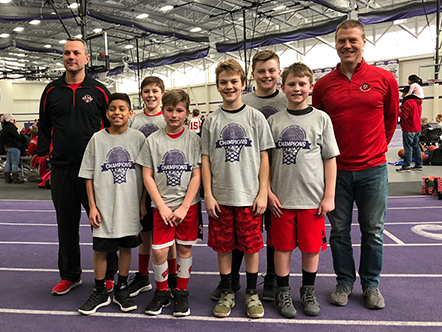 Congratulations
2019 6th Grade SWL Tournament Champions!
Special Thanks to our Sponsors
Gold Sponsors

Silver Sponsors

Bronze Sponsors



Girl's Information & Registration
· League runs October 23 - December 18
· Practice starts around October 1
· Registration Deadline is September 14


Required Forms
Girl's Registration Packet


Fees: $75 per participant
$150 family max
Check payable to "Little Chiefs"

* Forms and fees can be turned into the Recreation Office

Girl's Contact Mike Dowden
Boy's Information & Registration
· League runs December - February

Registration Deadlines
Boys 7-8 grade: November 1, 2018
Boys 4-6 grade: November 15, 2018

Boys - online registration only (no paper)


Fees
4th & 5th grade: $90 (includes jersey)
6th grade: $95 (includes jersey/shooting shirt)
7th & 8th grade: (includes jersey/shooting shirt/shorts)

Boy's Contact Dean Gosse
Little Chiefs needs your help!
· Coaches
· Board Members
· Sponsors (Sponsorship Form)
The BigFoot Little Chiefs program is a non-profit, community organization designed to promote youth basketball within the Big Foot Union High School District boundaries. It is made up of a board of directors and an administrative committee of volunteers to help govern the organization.

The Little Chiefs Youth Basketball Club was created to give 4th-8th graders the opportunity to develop basketball skills to compete with other players in the area. The season runs November through March. Flyers will be sent to all of the area schools in the fall to promote our program registration.