Adult Sports Leagues
16" Softball | Sand Volleyball | Pickleball
16" Softball League

As many of our seasonal residents migrate north to recreate from the Chicago area during the summer, the passion for 16" unique to the Windy City followed. This storied league has been located on the west end of Geneva Lake for years and has been played with the passion and panache reminiscent of Chi-Town.
We are not "officially" a coed league, but we do encourage teams to be coed, which are reflected in the rules. Ultimately, our goal is designed to protect the league and encourage its growth.
2019 Fees: $300/Team ($25 discount before May 16)
Location: Duck Pond Recreation Fields
Season begins: June 3, 2019 at 7:00 pm
Registration Deadline: Monday, May 20, 2019
Coach's Meeting: Monday, May 20 at 6:00 pm (BF Rec Office)
Rosters Due: Prior to the start of the team's first game
Report Scores: 262-275-2117

(Online Registration Available)

2018 Game Schedule
Date

Field #1

Field #3

Field #4

Mon. June 4
10 Champs vs. Abbey Marina 9
20 Sweeney's vs. Whiskey Ranch 5
9 Chuck's vs. Son's of Pitches 2
Mon. June 11
14 Abbey Marina vs. Sweeney's 12
3 Whiskey Ranch vs. Son's of Pitches 6
2 Champs vs. Chuck's 9
RAINOUT - MAKEUP 7/16
Mon. June 18
Champs vs. Whiskey Ranch
Abbey Marina vs. Chuck's
Son's of Pitches vs. Sweeney's
Mon. June 25
17 Abbey Marina vs. Son's of Pitches 5
10 Whiskey Ranch vs.
Chuck's 16
3 Sweeney's vs. Champs 9
July 2
"ALL STAR GAME"
Mon. July 9
16 Chuck's vs. Sweeney's 2
2 Son's of Pitches vs.
Champs 15
2 Whiskey Ranch vs. Abbey Marina 15
Mon. July 16
W Champs vs. Whiskey Ranch L
7 Abbey Marina vs.
Chuck's 8
5 Son's of Pitches vs. Sweeney's 15
Mon. July 23
Tournament
Mon. July 30
Tournament
Mon. Aug 6
Tournament
The second team listed is the HOME team.  The home team keeps the ball except during tournament play.

All games start at 7:00 PM unless otherwise noted.

In case of inclement weather, please call the hotline at 275-2117 (press 9).  If it rains after 4:00 pm, it will be up to the captains to cancel the games. 

Scores MUST be reported by the winning captain within 24 hours to (262) 275-2117 or email.

Rainouts will be played as a double-header the following week with the makeup game played at 6:15 and the regularly scheduled game to start at 7:30.

The tournament will start on July 23 if there are no rainouts. Any regular games not played will be considered a tie on the season record.
2018 Standings
Team Name
Captain
Contact Number
Standing
Wins
Losses
Avg Pts Allowed
Avg Pts Earned
Chuck's
Britt Isham
c(262)745-5640
1
5
0
2.80
11.60
Champs
Jess Bush
Zack Bernhardt
c(262)903-0793 c(262)348-6199
2
4
1
5.75
9.00
Abbey Marina
Matt Long
c(262)215-7738
3
3
2
7.40
12.40
Sweeney's Pub
 Bill Molitor
c(262)325-5326
4
2
3
9.80
10.40
Sons of Pitches
Josh Nelson
c(262)903-3404
5
1
4
11.80
4.00
Whiskey Ranch
Frank Gentile
c(262)748-0996
6
0
5
14.25
2.75
Rankings are determined by:
1.   Total Wins and Losses
2.   Head-to-Head competition between teams with the same record
3.   Average runs allowed for the season (Any forfeited games automatically lose average points allowed competition)


2018 Tournament Results
Congratulations Chuck's!


** Special thanks to Jack Brown and Chuck's for hosting the end of season party July 31 - everyone who attended had a great time! **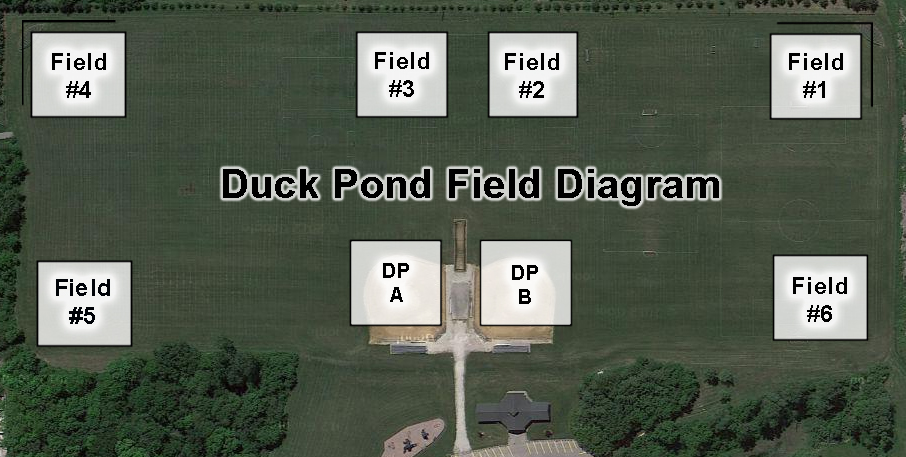 Directions to Duck Pond Recreation Fields